THE TALE OF DORIS AND THE DRAGON IS OUT NOW ON PC
The game is officially released following a great reception on Steam Greenlight and App store releases

The Tale of Doris and the Dragon, the debut title from indie developers Arrogant Pixel, has officially launched today (8th September 2016) on PC via Steam, after a hugely successful Steam greenlight campaign.
Get the game for Mac, PC and Linux here: http://store.steampowered.com/app/516840
Released earlier this month on both iOS and Android, following strong praise and support from the gaming community, PC gamers can now join Doris on her adventures in life after death. A point-and-click episodic adventure game, players will guide the lead character Doris on her journey through purgatory.
We've had some fantastic reviews and articles come out over the past few weeks following the release of the iOS and Android versions of the game. Ben was interviewed by the online tech magazine editor, Thomas McMullan from Alphr.com: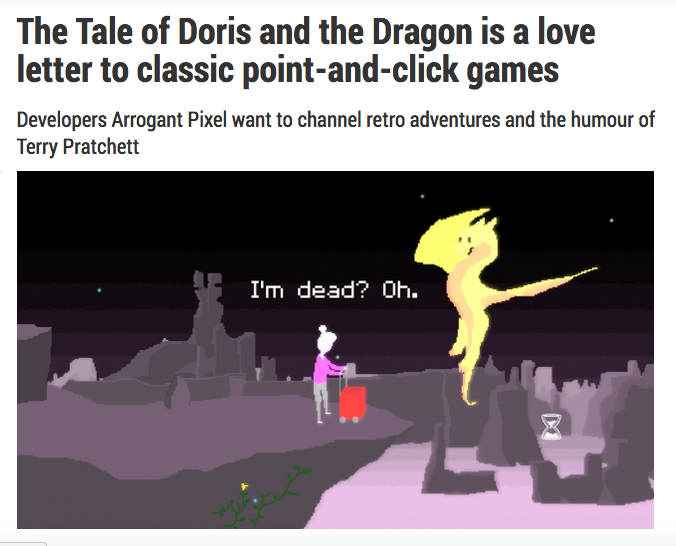 "I'm a big fan of Terry Pratchett and a big fan of the old Discworld games, so that was the feel I was going for with the humour," Ben Simpson says. "But I don't think many games have taken on the British comedy mantel and have done it justice. I'm really looking forward to see what we can produce."
We were also very pleased with a 7/10 rating from PocketGamer.com who also thought that The Tale of Doris and the Dragon Episode 1 deserved the PocketGamer Bronze Award!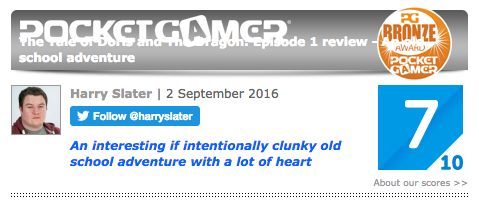 The Tale of Doris and the Dragon was also reviewed by ten real consumers in the PocketGamer App Army segment. These reviews were so important to us since it gave us a real indication of how the game was likely to be received on Steam.
The App Army is Pocket Gamer's very own community of mobile game experts. Each week, they are furnished with a bunch of free codes and early access to the hottest upcoming games so they can provide their thoughts. It was great to receive comments like this:
"What a funny little game this is – one of the best I've played in a while. It's got lovely voice acting"
Kainen Ryan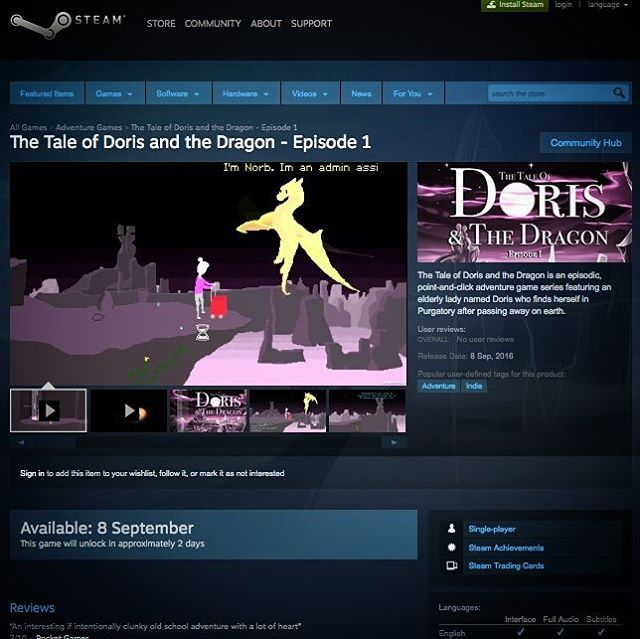 "The Tale of Doris and the Dragon combines the classic story-telling and humour of Terry Pratchett with traditional elements of point-and-click adventure games" said Ben Simpson, founder of Arrogant Pixel. "We've spent the last year crafting an experience with sharp wit, cutting one-liners and pop culture references that is truly a love letter to classic graphic adventure games"
To be completely honest, it has been a completely crazy and amazing journey up to this point. I can't tell you how much hard work and stressful times there were but I wouldn't have had it any other way.
If you do check out The Tale of Doris and the Dragon, we are forever grateful and you can feel good for supporting a small indie team with big dreams! Thank you everyone for all your support and we are confident that Episodes 2 and 3 will be much bigger and better.
Don't forget to keep up with us on Instagram, Twitter and Facebook where we post almost daily!
INSTAGRAM: http://www.instagram.com/arrogant.pixel
FACEBOOK : http://www.facebook.com/arrogantpixel
TWITTER : http://www.twitter.com/arrogantpixel
WEBSITE : https://www.arrogantpixel.com